Every commercial business and property management company needs a long-lasting and reliable commercial roofer in their back pocket. As the top commercial roofing company in Calvert & Ann Arundel County, Elite Project Services offers top-class commercial roof systems at business-friendly rates. 
Let our team at EPS meet commercial your roofing needs and cut energy costs for your business!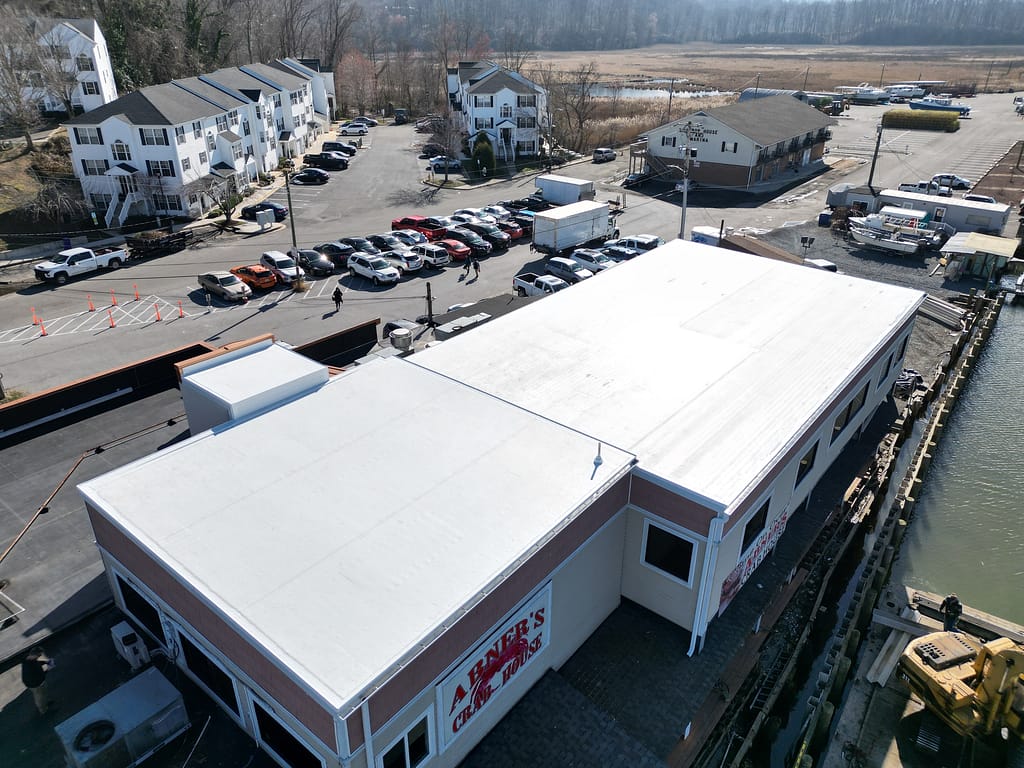 Trusted, Top Rated Commercial Roofing Service & Repair
Having our commercial roofers perform roof maintenance a few times a year can decrease your chance of needing repairs.
Restoring your roof to excellent condition is our top priority during each repair service. Your EPS commercial roofer will begin the job with an inspection, seeing what is causing the problem and finding the best way to treat it. We then present you with a quote and perform professional work after you're comfortable with what we advise.
Types of Commercial Roofing EPS Offers
During your commercial roof installation or replacement, one of the most vital choices you make is your type of roofing system. Consider lifespan, price, durability, and performance against weather, water, fire, and other factors when picking a roof. Working with Elite Project Services, you have many roof replacement choices, including:
Our contractors can install PVC roofs with ease because of their flexibility. Many industrial and commercial building owners like how it improves energy efficiency but recognize that it can sometimes be more expensive.
A single-layer TPO roof works well in industrial and commercial settings.
Quality EPDM roofs last for many years.
Our roofers can easily install flat roofs as they take up fewer square feet.
At Elite Project Services, LLC our team aims for perfection by making sure that every customer receives the highest quality clean out services throughout Anne Arundel County, Culver County, St. Mary's County and other locations surrounding Maryland. Providing quality Solar panel installation along with flexible service schedules and responsive customer service provides value as well as peace of mind for our clients and their businesses. Our company provides Roof Replacement and Roof Contractors of all types. We utilize the best quality tools and techniques to help effectively improve and beautify your home or buildings. We ensure that every project is accomplished with brilliance and great safety measures because it is our job to help you.
Our team at Elite Project Services, LLC takes gratification in being the most promising and exceptional Roof Installation care providers Anne Arundel County, Culver County, St. Mary's County and other locations surrounding Maryland Our specialized team of customer service staff, experienced and well knowledge Roof Repair Services specialist make sure that all our customers get the ideal Roof Replacement they need. We pay attention to even the smallest of details and provide Roof Contractors services for your property with a quick response time and immediate service. 
VISION
Our vision is to be our customer's number one choice for all their Solar panel installation needs through professionalism and the highest quality of services to enrich the wellbeing of our customers and allow them to live and work more comfortably. 
Cleaning services provided by Elite Project Services, LLC:
-Roof Replacement 
-Roof Contractors
-Roof Installation
-Roof Repair Services
Our team delivers immediate responses to service calls, presents timely support, offers straightforward and honest estimations, and designs a complete plan to ensure all the requirements of our clients are met. Don't hesitate to Elite Project Services, LLC for your next Roof Repair Services project. 
Visit Us:
Facebook